FUTURE YOU
Future You (2019) is an interactive artwork which places the viewer into a relationship with an evolving form. It brings together ideas explored with Walking City and Smart Matter out of the screen and into an intimate performance between the viewer and machine. The viewer becomes the performer and the AI learns from the human. Starting as a primitive animation, the reflection learns from the visitor's movements and evolves and adapts to become more complex with every new movement it learns. It wiggles, shifts and bends in tandem with the user, presenting 47,000 possible variations in appearance, becoming more agile as it learns movements specific to the visitor's body.
Future You asks "How do you feel when you see a synthetic version of yourself"? Triggered by a camera, and learning from your every move, the digital form mimics, adapts and accelerates your body toward a Future You. We invited Lilian Edwards to respond to this work and explore the ethical dimensions of what happens when you become intertwined with a machine. In Lilian's response she reflects on issues of anonymity and hiding through digital masks and the potential manipulation of people that can be achieved by robots or technology pretending they are something they are not. 
Lilian Edwards is Professor of Law, Innovation & Society at Newcastle University and is a leading academic in the field of Internet law, including work on Artificial Intelligence. She also specialises in privacy and data protection, especially as applied to AI and algorithms.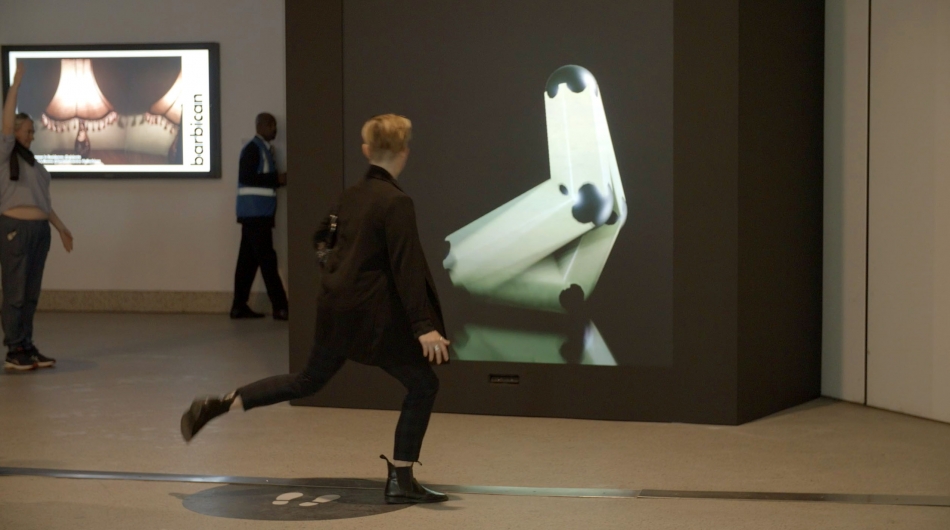 FUTURE YOU DETAIL
Future You was commissioned as part of the hugely successful artificial intelligence exhibition AI: More than Human which was held at the Barbican in London in 2019. The exhibition brought together a number of artists and scientists together to explore the beginnings of AI and its potential to transform our lives in the future. Visitors to the exhibition were greeted by Universal Everything's piece at the entrance by a screen that acted as a mirror, reflecting a unique synthetic form of the viewer. Future You responds to a number of themes and techniques seen previously in Universal Everything's work but now giving the viewer the chance to experience being part of the work first hand. We have only been able to show the video of the piece here but will be showing the full interactive artwork in the Inspace Gallery as soon as we are able to do so, so do keep an eye out for details on when the physical exhibition will take place.
CREDITS
Title: Future You (2019)
Creative Director: Matt Pyke
Creative Technologist: Chris Mullany
Realtime Look Development: Adam Samson
Sound Design: Simon Pyke
Exhibition Designer: Tonkin Liu
Studio Manager: Simon Thompson
Executive Producer: Ben Young
Commissioned by: The Barbican, London