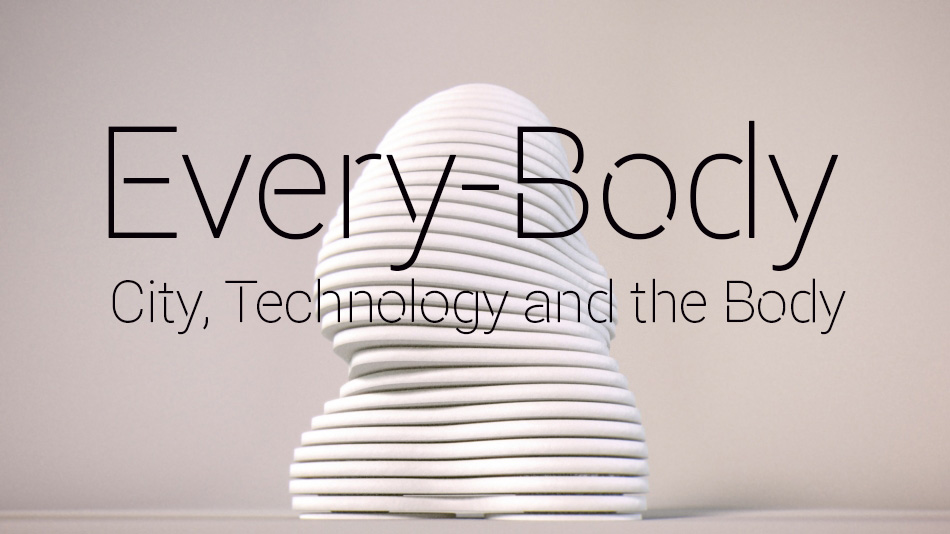 Every-Body presents the work of the pioneering design studio, Universal Everything. Universal Everything's work has sustained a dialogue between three themes that bridge the 20th and 21st centuries: city, body and technology. The Every-Body show takes the opportunity to untangle these themes through curation and discussion with eminent scholars from the fields of dance, architecture and data-ethics.
Originally intended to be part of the Edinburgh Festival in 2020 but then moved to an on-line exhibition when Covid19 struck, we are delighted to be able to bring this exhibition to you in-person now and invite you to reflect on not just our current condition but to take a step into the future too.
Every-Body presents a digital triptych consisting of three of Universal Everything's most provocative works. From Walking City that has become a graphic icon for the human as city, through Smart Matter that represented technology hype as a dance partner, to the more recent work Future You, that invited the viewer to become part of the machine, opening up a future of possibilities. Future You was originally created for the Barbican's exhibition "AI: More than Human" (2019) which was one of the most successful exhibitions ever to have been hosted at the Barbican Centre. Future You is an interactive piece which changes and adapts as you stand in front it and asks "How do you feel when you see a synthetic version of yourself?"
EVENT
Join us to hear more about the exhibition and explore the themes. We will start with a talk from Joel Gethin Lewis, interactive creative director of Universal Everything, before a panel discussion with academics Ola Uduku (Professor of Architecture at the Liverpool School of Architecture); Kate Sicchio (choreographer, media artist and performer) and Chris Speed (Professor of Design Informatics and Director of the Edinburgh Futures Institute) followed by a drinks reception.
11 August 5-7pm at Inspace Tickets are free but sign up via Eventbrite 
OPENING TIMES
Exhibition will run daily from 11am-6pm in the Inspace gallery.
You will also be able to view Walking City on Inspace City Screen (viewable on the street at Potterrow) from 6:30pm – 4am each night.
Find out more about Universal Everything https://www.universaleverything.com