ARTISTS IN RESIDENCE SHOWCASED AT THE EDINBURGH SCIENCE FESTIVAL
We are exhibiting the work from the Space and Satellites Artist Residency artists and collaborators at Inspace City Screen and online as part of the Edinburgh Science Festival taking place from Saturday, 26th June to Sunday, 11th July 2021.
Exhibition details
Saturday, 26th June to Sunday, 1st August 2021
[now extended for viewing through the end of July!]
open to view at Inspace City Screen at street level on Potterrow from 8pm to 2am
1 Crichton Street, Edinburgh, EH8 9AB
Artwork projected onto Inspace City Screen is best viewed after dark. TV screens in the window and some of the artists' works and physical artifacts can be seen in the windows during the day.
This is a free exhibition which can be viewed from outside at street level. As these works can be viewed from the pavement at Potterrow, please be aware that there is both pedestrian, cycle and vehicular traffic that will be travelling nearby. Please take care when pausing to view the works and maintain social distancing in line with Scottish Government advice.
Search for #SpaceandSatellites on Twitter, Instagram and Facebook.
THE PROJECT
The Space and Satellites artists represent a wide range of disciplines including sound, weaving, illustration, dance, animation and more. They were teamed up with scientists to make data 'visible' and highlighting changes on earth, from the movement of puffins to environmental changes, through to the impact that the Coronavirus has had on our cities.
Visit Inspace City Screen on Potterrow (at 1 Crichton Street) to experience:
Cécile Simonis's comic, illustrating how satellites can help us monitor forests.
Elaine Ford's use of satellite technology for the conservation of wildlife and natural habitats.
Julia McGhee's collaboration with John McGeoch and Geoff Robbins, interpreting satellite data to reflect environmental events in the North of Scotland.
Dr Stacey Hunter's collaboration with Ben Hymers and others to produce a data-derived tapestry design.
Victoria Evans's sound piece, reflecting the communications between satellites and the Earth.
Space and Satellites was our first Artist-In-Residence Programme for Inspace. We selected 5 artists from 35 international applications, who focused on the theme of space and satellite data. These residencies created a space for exploration and aimed to create genuine collaborations between science and creative practice.
THE ARTISTS & THEIR WORKS
The Return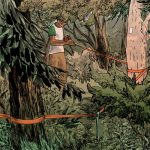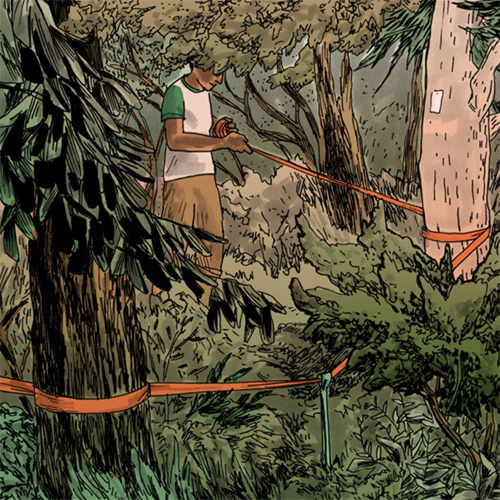 The Return is a graphic short story illustrating how satellites can help us monitor forests. This is a poetic narrative inspired by and referencing the ways scientists measure biomass.
Saltworks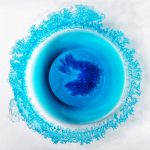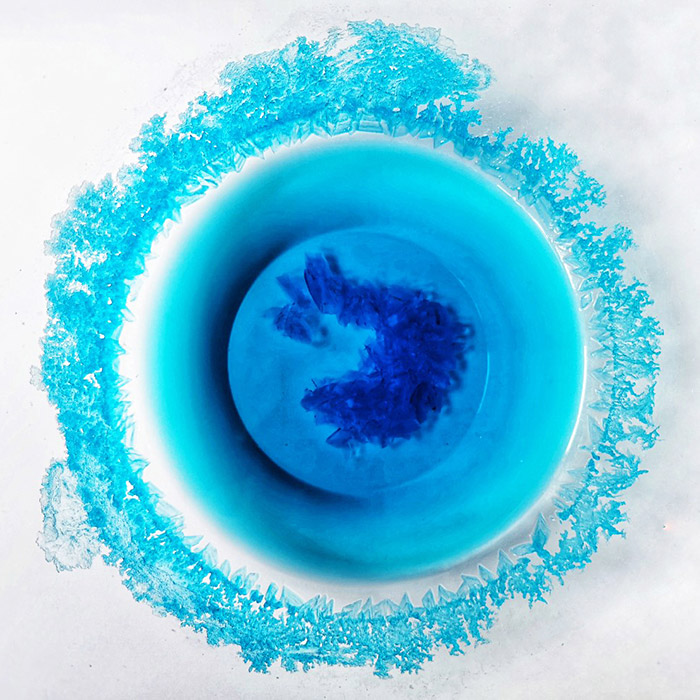 Saltworks is a visualisation of puffin movement and ocean data from satellites. The data is sourced from the Royal Society for Protection of Birds (RSPB).
Meta/Morph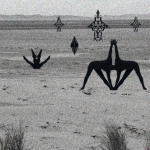 Meta/Morph is a choreographed data visualisation created through movement and digital animation, bringing together three different sets of satellite data taken over the North of Scotland.
Everyone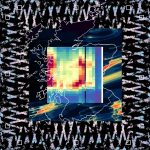 Everyone is a data-driven tapestry design developed at the intersection of craft, science and the decorative arts using data which tracked and mapped the impact of the COVID-19 virus on air quality.
Deep Space Call and Response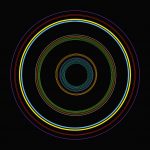 Deep Space Call and Response is a sound piece that uses data sonification to uncover the patterns of interaction between twelve satellites and the Earth, imaging what their communication might sound like.
Edinburgh Science Festival 2021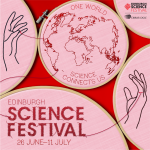 We are making a connection with the Edinburgh Science Festival and audiences this summer, embarking on an exploration of the ways that science and technology weave us together.
OTHER RESOURCES
The Inspace Space and Satellites Artist in Residence programme ran from the 1st of May to the 31st July 2020 with a series of Work in Progress events, culminating in an online exhibition. Due to the restrictions of Covid19 these events and the exhibition took place online.
You can view and read more about the programme and events here:
Learn more

about the 2020 Artist in Residence programme and Work in Progress events.
CREDITS & THANKS
The inspiration for our theme of Space and Satellites came from a Space Creative Mash-up event developed by Caroline Parkinson (Sector Lead for Creative Industries, DDI), Terry McLarney (Envisage Space Ltd), and meet-up group Space Tech Scotland held at Inspace in November 2019.
As part of the residency project we worked with the Space and Satellites Centre at Bayes to involve university scientists and researchers including Murray Collins. The University of Edinburgh (through the Edinburgh and South East Scotland City Region Deal) is setting up a new Space and Satellites Centre at Bayes and this event included Dr Murray Collins who leads the innovation programme of the centre and who was a DDI Chancellors Fellow.
The judging panel for the Residencies included, in their roles at the time:
Caroline Parkinson, Sector Lead for Creative Industries, DDI
Dave Murray-Rust, Inspace Director and Senior Lecturer in Design Informatics
Suzy Glass, independent cultural consultant
Terry McLarney, Co-Founder Envisage Space Ltd
Jane Macdonald, Inspace Manager and Producer for Space and Satellites Artist Residencies
The project was funded by the DDI (Data-Driven Innovation) programme and supported by Edinburgh Futures Institute (EFI).


Each of our artists was supported by the creative coding skills of Ray Interactive.

You can watch the 2020 Inspace Artist Residency launch event video online.
Exhibition production by:
Jessica Armstrong, Research Projects Producer at Design Informatics and Inspace
Mark Kobine, Design Informatics Technician
Kat Dlugosz, Video Production Edinburgh